Was it your smartwatch? Top 6 Smartwatch Brands in 2021
Introduction:
A smartwatch is a digital watch that offers many other functions in addition to timing. Examples include monitoring your heart rate, tracking your activity, and providing reminders throughout the day. Like a smartphone, a smartwatch has a touch screen that allows YOU to perform actions by tapping or sliding the screen.
Modern smartwatches contain various applications, similar to applications for smartphones and tablets. These applications provide additional functionality such as viewing weather information, listing stock prices, and viewing maps and driving directions. Most smartwatches can also be used to make phone calls and send and receive text messages.
While these apps run directly on the smartwatch, they do need a smartphone to work. This is because the phone first receives the data and then sends it to the watch. Most smartwatches do not contain WiFi or a SIM card for mobile data. Therefore, most applications rely on a compatible smartphone to provide data over a Bluetooth connection. For example, with the SMS app on your smartwatch, YOU can dictate and send an SMS, but the actual message will be sent through your phone. If your watch is not within range of your phone's Bluetooth signal, the message will not be sent.
The best smartwatches on your wrist you can get in 2021
We spent hours researching the best smartwatches available on the market and then selecting them for you. So that you can fully trust our research and the small wristband smartwatches we have selected.
Apple Watch Series 5
There are good smartwatches, there are great smartwatches, and then comes Apple's smartwatch.
Whether it's iPhone,  iPod, or Series 3, Series 4, and now Series 5 watches, Apple always includes a lovely piece of technology.
The Apple Watch Series 5 is available in two different variations when it comes to the case diameter (dial size). One comes with a 40mm case diameter and the second comes with a 44mm case diameter.
And there is no doubt that the 40mm size is the perfect choice for people with small wrists.
At just 10.7mm thick and weighing just 1.1 pounds, the Apple Smartwatch becomes more compatible with small wrists.
Simply pair your iPhone with your Apple Watch Series 5 and it will open the doors to tons of amazing features for you.
In contrast to your iPhone, the Apple Watch is waterproof up to 50 meters. So take your smartwatch with you when you go swimming and don't miss any urgent calls or notifications.
You don't have to touch the screen or press a button every time you want to check the time. If the Retina display is always on, the time is always visible on the watch.
With the built-in GPS and compass, the watch confirms it.
You will love the amazing fitness features of the smartwatch.
The Apple Watch motivates the user to sit less and do sports every day. And the heart rate monitor monitors your heart and alerts you immediately if your heart rate is higher or lower than normal.
The built-in altimeter makes the smartwatch a great product for people who love extreme sports, especially mountain climbers.
Music lovers can also benefit from the Apple Watch. Stream over 60 million songs anytime, anywhere, even if YOU don't have your iPhone handy.
Not forgetting that you can also access audiobooks and podcasts with this incredible smartwatch.
Found something interesting while window shopping, but didn't bring your smartphone or wallet? No problem, unless you have your Apple Smartwatch with you. With the watch, you can easily and securely pay with Apple Pay.
The Apple Smartwatch not only looks good, but is also robust with Ion-X reinforcing glass, sapphire glass, and ceramic back.
Samsung Galaxy Watch Active 2
Samsung is the world's leading smartphone maker and now the company is ready to tear the big smartwatch makers to pieces with its amazing smart bracelet devices.
One of those great smartwatches from Samsung is the Galaxy Watch Active 2.
The dial size of 40 mm makes the smartwatch one of the best smartwatches for people with narrow wrists. And if you are good at handling your tiny wrist that weighs 6.40 ounces, you will love this smartwatch.
Samsung Galaxy Watch Active2 works with buttons and touch screens and is compatible with WiFi and Bluetooth technologies.
You will love the smartwatch, even more, when we tell you that in addition to Samsung smartphones, you can easily connect this smartwatch to other Android devices with OS 5.0 and above.
And even the iPhone with iOS 9.0 and above are compatible with this smartwatch. Unlike the Apple Watch, you don't have to put aside this amazing smartwatch just because you don't have an iPhone.
The functions of the Smartwatch Samsung Galaxy Watch Active 2 are enough to keep your smartphone at a distance and not miss anything important.
Receive and make important calls and answer urgent messages. Keep up to date with what's happening on your social media accounts, translate the text to make the conversation easier, and record high-quality videos so you don't miss life's precious moments.
If you're paying a good price, why keep an eye on smartphone activity instead of doing other important things?
With this smartwatch, you can monitor your health and manage your training activities.
Your Samsung Smart Watch automatically detects when you run, walk, swim, use elliptical trainers, paddle, or bike.
And for other types of exercise, you can manually set the watch to keep track of your performance.
Keep an eye on your productivity while swimming and don't be afraid of heavy rain or sweat as the watch is water-resistant to 50 meters.
The Samsung Galaxy Watch Active loves you so much that it also monitors your sleep and stress levels. When stress is high, this smartwatch will suggest breathing techniques and help you stay calm.
With a built-in heart rate monitor, you get instant notifications when the smartwatch detects a high or low heart rate.
Training without music is so boring. But with Samsung Active 2 YOU can stream music directly from your smartwatch and download your favorite songs too.
The backup battery is of great importance when buying a device. And this Samsung product won't let you down when it comes to battery backup. With normal use, the Samsung Galaxy Watch Active's battery lasts up to 5 days.
 The Fossil Women's Gen 4 Company
Clive Owen once said: "Jewelry is not my thing, but I've always been looking for people's watches." So here is another smartwatch, just for women who want their shiny watch to be noticed in public.
Gen 4 Venture by Fossil Women has a design that women can simply fall in love with. The shiny rose gold color and rhinestones in the corner of the dial make the smartwatch look attractive.
With a dial size of just 40mm, a thickness of 12mm, and a weight of only 1.8 ounces, the Fossil Women's Gen 4 Venture is the best smartwatch a woman can own.
Unlike other unisex watches with thick bands, this smartwatch has a narrow band of 16mm, which makes the watch look great on your beautiful wrist.
Dazzling looks aren't the only thing Gen 4 Venture offers. The smartwatch offers smart functions that make your daily life easier.
Immediately after you have connected the Fossil Women's Gen4 Venture to your smartphone, you will receive call notifications, email notifications, app notifications, and social media notifications directly on your smartwatch.
While we are talking about compatibility, any Android device with version 6.0 or higher and an iOS device with version 10.0 or higher can be paired with this smartwatch.
This smartwatch has the disadvantage that you cannot use it to answer your calls directly. The main reason for this problem is the lack of a speaker on the smartwatch.
But the problem can be solved once you connect it to your wireless headphones. After that, you can use the Fossil Women's Gen 4 to take calls and even listen to music.
You don't always have to keep the boring black dial. Customize the watch face every day or whenever you want and customize it to suit your outfit and the places you visit.
Protect your phone and wallet from thieves, just don't take them and pay for your purchases with Google Pay built into the smartwatch.
Without charge? No problem. With a magnetic USB charger, YOU can charge your Fossil Women's Gen 4 Venture up to 80% in one hour.
Not only for occasional use, but this smartwatch can also be your companion in your training sessions.
Monitor your heart rate and easily track your activities and workouts with Google Fit. Take this smartwatch to pool and swimming sessions fearlessly as it can easily dive up to 50 meters underwater.
Never get lost on less-trafficked roads with the smartwatch's built-in GPS tracking.
If your smartwatch is working properly, the battery will last 24 hours, but you can increase the backup battery with the different battery modes.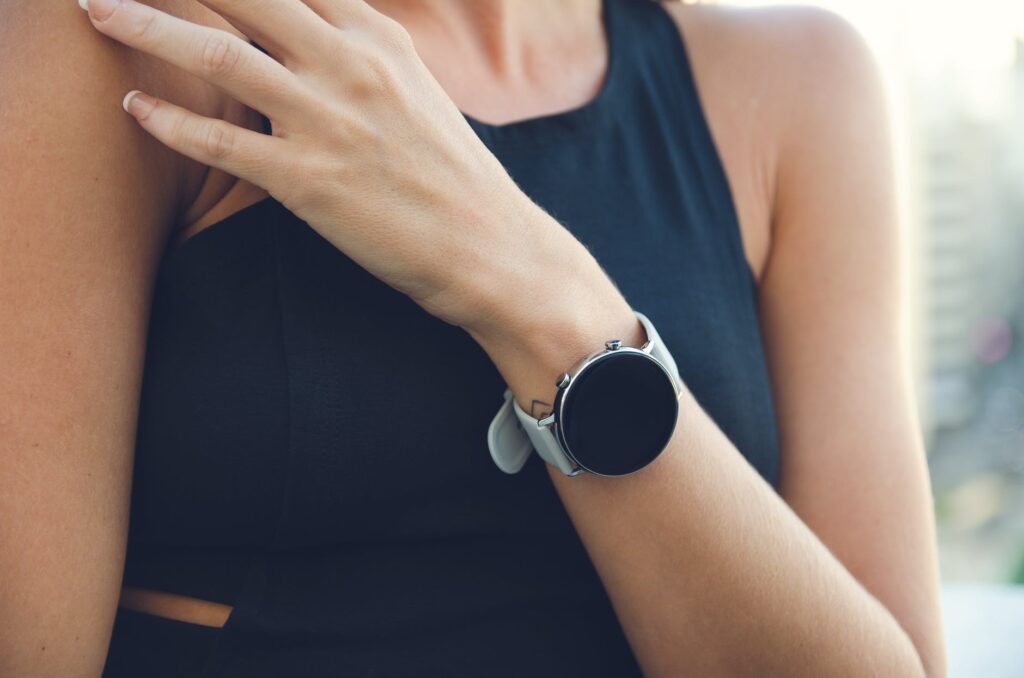 Pebble age round
Not a fan of the digital display of smartwatches, but still want all notifications to appear on the screen? It seems impossible, right? But we have the Pebble Time Round smartwatch for you that suits your tastes.
The Pebble Time Round Smartwatch is a perfect accessory for a slim wrist. It's one of the smallest, lightest, and thinnest smartwatches that you can find on Amazon. The smartwatch weighs just 0.9 ounces and is only 7.5 mm thick. Speaking of the size of the dial, it's only 38mm. With such small dimensions, you could even forget that you are wearing a watch.
As mentioned above, it is a watch that can show you notifications on the screen at the same time, making it feel like a non-digital watch. The traditional look that the watch gives is a screen too. Whenever you receive a notification, the screen changes automatically and you can read the notification at a glance.
Since we are talking about notifications, you might think that this watch provides all notifications. Once connected to your Android or iOS device, you can see all your notifications for incoming and outgoing calls, text messages, reminders, calendars, and more.
Most people with a casual smartwatch hide their hands when they notice splashes of water. But you can keep your arms wide open once you've wrapped them up due to their waterproof nature.
Judging by its looks, most of the people say that this smartwatch looks great but it can't provide activity tracking. It's time to prove them wrong. The Pebble Smartwatch can easily monitor your sleep, the steps you have taken, and other necessary statistics. All of this information will be uploaded to your smartphone if you have a compatible application.
To make your watch look unique and better than others, you can change the dial and bracelets at any time.
Battery life plays a crucial role when choosing a smartwatch. Pebble Time Round has a good 2-day battery life and only takes 15 minutes to fully charge. So if you don't have a lot of patience, this is a perfect smartwatch for you.
Fitbit Ionic Smartwatch
The Fitbit Ionic has always been a challenge for the brand trying to move from fitness bands to the world of smartwatches. The effort succeeds in a few places: namely, fitness, as you can imagine, where you can follow everything from running to lifting weights to swimming. There are also special bodyweight training units there and you can pay for the products on the go with Fitbit Pay.
Also Read: Why Electric Cars Are Important To Society?
Huawei  best smartwatch
The latest lower price makes Huawei's smartwatch a much better prospect if you are looking for a smartwatch brand, especially if you are an Android user. This brand's attempt at making a smartwatch is excellent too, it works well, has relatively close monitoring, and is really well built to give the best feel. It's very well built, has a better display, lots of standard dials with decent battery life.