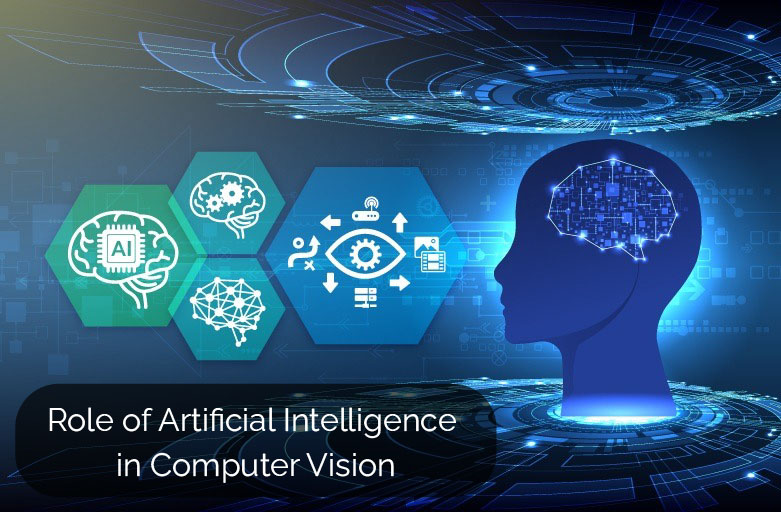 We've seen several incredible advancements and new solutions in current years, all made possible by Computer Vision (CV). The developments in computer vision have benefited a wide range of sectors. The sectors that are most influenced are transport, healthcare, logistics, manufacturing, defence, and many more.
As per Tractica, the worldwide AI software market is predicted to grow rapidly, reaching a value of 126 billion dollars by 2025; because of the transformation of AI in computer vision technologies, now would be the time for business owners and company leaders to think about how AI may help them achieve a competitive edge.
Computer vision enables systems to obtain information from visual input like pictures or recordings. It forms neural networks using deep learning to allow computers to interpret and analyze these data. These models, once taught, can indeed identify objects and people, as well as follow their motions.
But have you ever really questioned how AI strengthens computer vision? This blog intends to empower business owners in identifying AI in Computer Vision. So, let's dive in!
Before jumping into AI in computer vision, let's quickly discuss
Computer Vision: Quick Overview
To enable computers to "understand" and recognise objects, computer vision integrates cameras, edge- or cloud-based computing, algorithms, and artificial intelligence. Picture segmentation, image classification, object identification, pattern recognition, facial recognition, and other applications can all benefit from computer vision. Computer vision technologies are now used in various industries, including industrial, retail, and finance, to help enterprises extend and improve AI at the edge. Object recognition, identification, and categorization are the most key components in today's computer vision applications. Demand prediction, route optimization, warehouse management, and other tasks can all benefit from computer vision.
By 2030, AI is expected to assist the transportation and logistics industry to expand to market growth of 10.30 billion dollars.
moving on, let's move forward and discuss,
AI in Computer Vision
Here are some ways in which AI in Computer Vision is transforming industries. Take a look!
#1. Error Detection
The manufacturing sector frequently struggles to achieve 100% accuracy in detecting problems in their manufacturing processes, owing to the need for defect monitoring systems. An AI-enabled computer vision system can collect real-time data from CCTV, analyse data streams by utilizing ML techniques, and find faults and deliver the percentage of deviation based on established quality requirements. Ups and downs in the manufacturing process can indeed be traced using AI-enabled computer vision systems. Through this approach, the processes can indeed be error-free and efficient.
#2. Face Recognition
The innovation allows a device to recognize a person's face and authenticate their identity. In fighting terrorism, facial recognition is key. It makes it much easier to spot possibly hazardous individuals. Artificial intelligence can be used in combination with face recognition systems to improve hazard detection. Algorithms are programmed to detect abnormal behaviour and provide a warning if it is disrupted.
#3. Smart Systems for Healthcare Industry
Computer vision can be used in various fields in the healthcare sector, including radiology, haematology, ophthalmology, and cardiology, among others. Computer vision has numerous advantages that are not only cost-effective but also life-saving. Computer vision is being used to diagnose diabetic retinopathy and age-related muscular dystrophy, as well as to assess blood loss during childbirth. You probably wouldn't believe it when We tell you that the market for artificial intelligence in healthcare is expected to rise from $4.4 billion in 2020 to $45.2 billion in 2026.
#4. Maintenance Forecasting
In the manufacturing industry, several production processes take place at high temperatures, and in harsh environments, material deterioration and others are expected. As a result, the machinery distorts. If not addressed promptly. This can lead to significant issues, losses, and halting of the production process. AI-enabled computer vision solutions, on the other hand, can examine the equipment on a real-time basis and a variety of parameters. If any deviations from metrics indicate deterioration, the computer vision system can notify the appropriate managers or supervisors, who can then take preventive maintenance measures.
Apart from the above, here are some more use cases of AI in Computer Vision. So, take a look!
Self Driving Cars
Video Analysis
Image Processing
Text Analysis & Detection
Visual Search
Audio Search
As you've seen, computer vision has progressed to where it is now and is as excellent as human vision in many cases. Contact a top mobile app development company to implement AI/ML services, AI-driven computer vision, image processing, and any other similar technology in your business or organization to maintain a competitive edge.
Final Thoughts
Computer vision is now increasingly capable of reproducing human vision, even outperforming it in some situations, owing to machine learning and convolutional neural networks. Computer Vision is anticipated to rise more widespread and appealing as it achieves similar excellent results in several industries and applications scenarios. You can embrace innovations while keeping technological integrity by cooperating with leading Computer Vision Services.